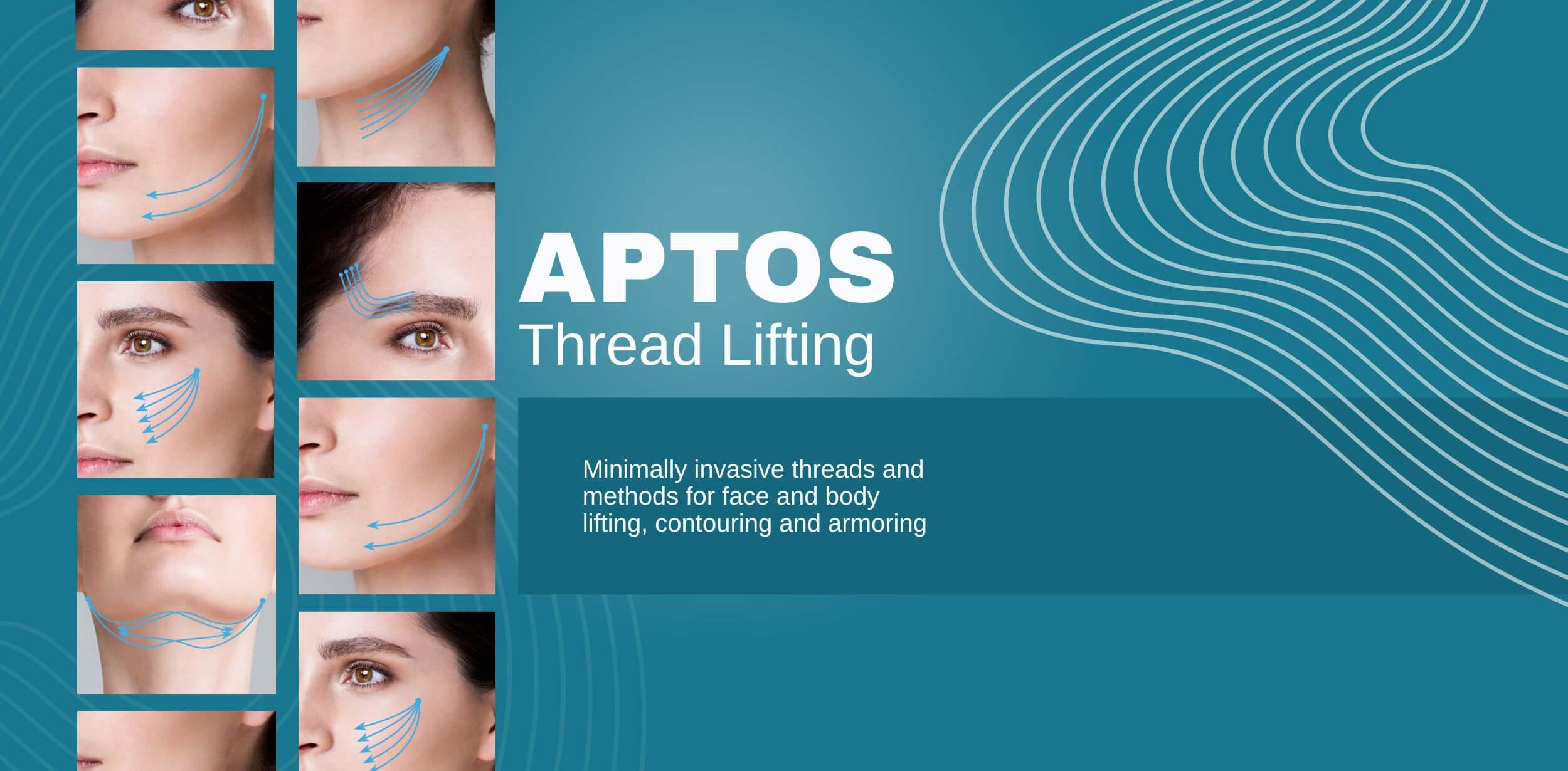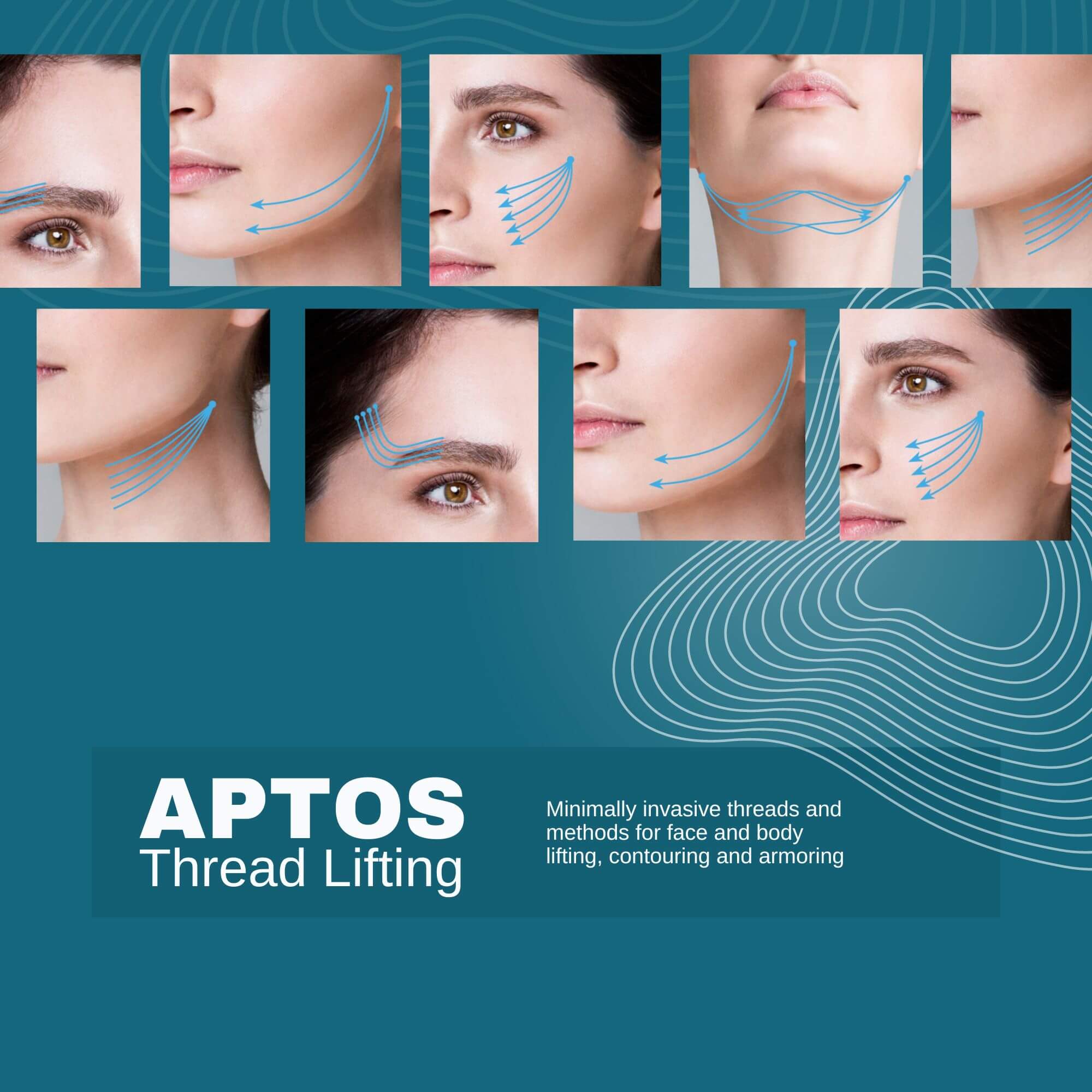 APTOS thread lifting Improves your facial profile with a sharp and defined face and neck contour requiring little downtime and without scarring at all!
What is Aptos Thread Lifting and how does it work?
APTOS THREADS are revolutionary thread lifting methods to tighten and lift the skin of the face and neck areas giving you a youthful appearance by correcting jowls and loose skin folds.
During the procedure of APTOS thread lifting, the sagging tissues of the face and neck are repositioned and tightened effectively to offer you the most aesthetic facial contour and firmness.
APTOS thread lifting has won several awards in Europe, titled the "best tightening thread" and the "best clinical face in facial defect reconstruction." It has been almost 25 years since the first Aptos thread and method has been introduced to the aesthetic world. It was first developed in 1996 by Dr. Marlen Sulamanidze. Aptos threads are currently available in 75 countries.
APTOS threads received USFDA approval status on 30th August 2020.
Safe for all
Aptos products comply with the requirements of European Pharmacopoeia. Products have a CE mark and FDA approval and the production is certified according to ISO 13485, which guarantees the quality throughout the entire manufacturing process.
As there is no cutting of the skin and only a local anesthetic is used, the procedure is considered less complicated than a full surgical facelift.
For thread lifting, we follow strict aseptic procedure protocol to ensure minimization and prevention of any complications and unwanted consequences from the procedure.
It is important to remember that thread lifting can only be performed by a licensed doctor who has undergone special Aptos training. Dr Abby Ousman is a trained physician to perform APTOS Thread Lifting since 2019.
Natural results
Doesn't "5 to 10 years younger" sounds perfect for a minimally invasive procedure`s result?! Because that is how you are going to look after Aptos thread lifting. Right after the procedure, you might have slight swelling or overcorrection, but in a few weeks, you will look like the pictures of yourself several years ago.
Compared to a traditional facelift surgery – which is perfect for a visible change, but also leaves scars and requires a long recovery period, after Aptos thread lifting, you will not find any signs of intervention or scars. And definitely will notice an improvement in skin texture, fine lines, and sagging skin.
Mid Face
Redefining the cheekbone contour, firming up the skin and giving a fuller appearance to the cheeks, and reducing the nasolabial folds.
Nose
To lift the nasal tip, heighten the bridge, slimming of the dorsal ridge, and create the desired side and front profile.
Lower Jaw
To regain definition of the jawline and reduce jowls.
Brows
To open up the eyes and raise the outer edge of the eyebrow.
Eyes
To lift the corner of the eyes creating the popular Cat Eye or Fox Eye look.
Forehead
To stimulate collagen and reduce the appearance of lines on the forehead.
Neck
To give an overall tightening effect including reducing sagging skin under the chin.
Advantages of Aptos Thread Lifting
Minimally invasive alternative to surgical procedures.
No incisions or scarring.
Provides natural-looking lift and tone to the face, jowls, neck, and brow.
Stimulates collagen to improve the appearance of lax skin on the neck, arms, abdomen, and other areas.
Provides immediate, high-impact results that continue to improve over time as collagen forms around the threads.
Completed in less than one hour.
Limited downtime post-treatment.
Treatment takes between 60-90 minutes.
Suitable for all skin colors and types.
Great skin doesn't happen by chance, it happens by appointment. Book your slot now and let's make it happen.
Fill in the form below to start your consultation.
"*" indicates required fields