The Dermapen 4 has revolutionized micro skin needling, making it easier, safer, and less painful to get maximum results compared with traditional Derma Roller skin needling.
What is Dermapen 4 Microneedling and how does it work?
The latest Dermapen™ is taking the microneedling pen industry by storm.
Dermapen 4 glides over the skin creating millions of fine, vertical fractional channels up to 104% faster than other microneedling pens. These channels can carry up to 80% more topical nutrients deeper into the skin.
The micro-injuries trigger a natural process of repair, increasing the production of collagen and elastin and visibly improving a wide range of skin concerns.
Dermapen 4 Micro Skin Needling works by injuring the skin and allowing it to replenish itself faster. The treatment is a form of collagen induction therapy where a series of needles penetrate the skin causing thousands of micro injuries at a vertical angle using a specialist medical device, for both faster and more precise needle penetration. The procedure leads to increased collagen production, which effectively repairs scars, reduces discoloration, and renews tired-looking skin.
The Dermapen 4 has revolutionized micro skin needling, making it easier, safer, and less painful to get maximum results compared with traditional Derma Roller skin needling. The results are more extraordinary, longer-lasting, and treatment time is faster, making this a top choice for anyone looking to achieve younger, smoother skin.
Renew Skin With Painless Treatment
You might think that having a bunch of tiny needles stamped into your skin would be painful, but surprisingly it is not. Before treatment, you'll have a topical anesthetic applied, which will eliminate any discomfort during the process. Everyone who has experienced treatment with the Dermapen has remarked on how pain-free it is, and some have even commented that it's a little like a rather rough massage.
During the skin healing process, minor itching, flaking, or redness may appear which is completely normal. The following activities should be avoided for at least two days following a dermapen clinical procedure:
Direct UV Exposure
Intensive Cardio
Excessively hot showers/ Sauna /.Steam rooms
Further clinical treatments including microdermabrasion, laser, IPL, Chemical Peels, Dermal fillers.
Spray or self-tanning
Swimming in Chlorine pools of the ocean.
Tattooing (including cosmetic tattooing)
Rejuvenate, For Acne & Stretchmark
Dermapen™ for skin rejuvenation will give you great results to include wrinkle reduction, tightening of the skin, reducing sun damage, improvement in skin tone, reduction of large facial pores, and a general vibrant look. 4-6 treatments are required at an interval of 4 weeks apart.
Dermapen™ for stretch marks can treat nearly all parts of the body including the stomach, legs, and breasts. The treatment time depends on the size of the stretch mark and can take up to 90 minutes for a large area such as removing pregnancy-related stretch marks. Up to 10 treatments recur at an interval of 4 to 6 weeks apart.
Dermapen™ for acne scarring can achieve almost similar results as any ablative treatments such as fractional laser, IPL, laser resurfacing, and chemical peels, without the negative side effects and downtime.6 treatments are required at an interval of 6 weeks apart.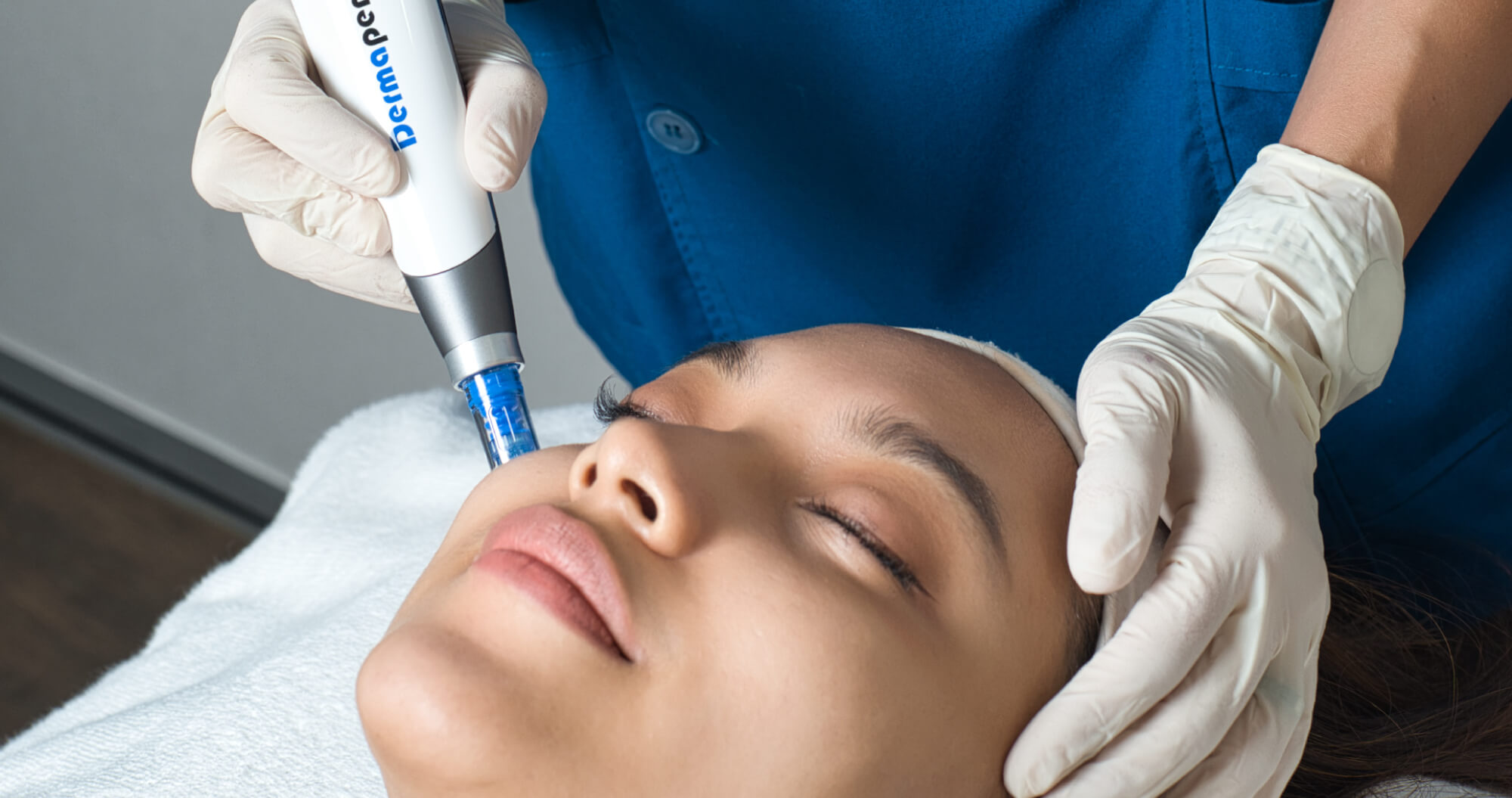 Reduction of large pores.
Advantages of Dermapen 4 Microneedling
Pain-free treatment with little downtime.
Stimulates collagen production, for natural skin rejuvenation.
Skin is smoother, fresher, and clearer after just one treatment.
Lines and wrinkles are reduced.
Scars, acne scars, pockmarks, and stretch marks are eliminated.
Instant results, that improve over time.
Great skin doesn't happen by chance, it happens by appointment. Book your slot now and let's make it happen.
Fill in the form below to start your consultation.
"*" indicates required fields