GOURI, the first injectable liquid form of PCL (polycaprolactone), promotes collagenases over the entire face, rejuvenating our skin. GOURI promotes collagen production, which has diminished as a result of skin ageing and spreads organically across the entire face.
What is GOURI and how does it work?
Gouri is a novel skin injectable that stimulates collagen formation when injected into the skin's dermis. It includes a soluble version of PCL (polycaprolactone) that penetrates the skin and forms a 3D matrix that activates fibroblasts. This enhances skin suppleness and allows for face lifting.
Because of its slow biodegradation in the human body, PCL is an excellent implantable biomaterial as when injected in the form of microparticles, it can induce collagen formation. It demonstrates multiple skin aesthetic benefits such as addressing face aging indicators like volume loss and contour laxity, offering an instant and long-lasting natural impact.
There are two types of fillers: HA-based and PCL-based. Though dermal fillers may also stimulate collagen regeneration, they cannot be injected evenly into the skin due to the nature and shape of the particles. As a result, these fillers are only used in focus areas. PCL-based filler on the other hand can be used to fill in specific types of acne scars.
As a result, GOURI is intended to have a more widespread impact, whereas dermal fillers are more targeted and focused on locations with a specific volume deficit.
Who is a good candidate for Gouri PCL Injectable?
GOURI PCL promotes new collagen formation in the skin, resulting in a natural lifting effect with little downtime. It is appropriate for anyone in their twenties and up who wants to treat skin laxity. It helps with volume decrease, plumping the nasolabial fold (laugh lines), wrinkles and lines on the face, and jowls and a saggy face.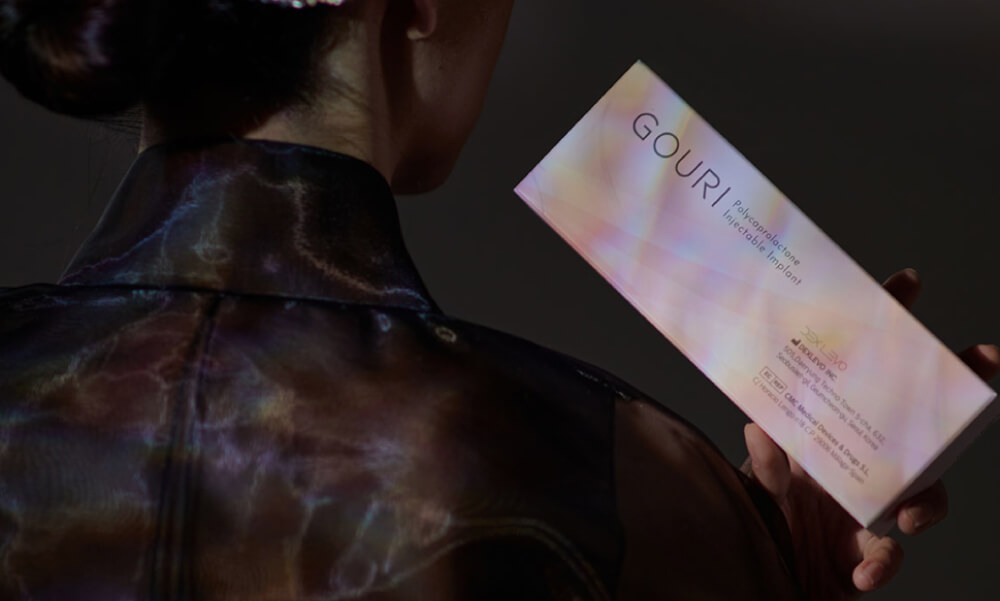 Saggy, ageing skin can be naturally lifted.
Skin elasticity improvement and facelift.
Decrease of fine lines and wrinkles.
Encourages the activation of fibroblasts.
Synthesis of fresh collagen.
Great skin doesn't happen by chance, it happens by appointment. Book your slot now and let's make it happen.
Fill in the form below to start your consultation.
"*" indicates required fields